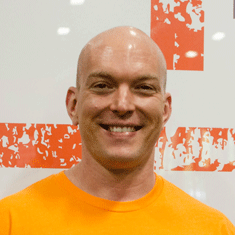 Health & Wellness
6570 Dobbin Rd
Columbia, MD 21045
BIO:
With over 20 years of martial arts experience, overlapping 15 years of competition in strength sports, I bring a wealth of knowledge to the fitness world as both a coach and an athlete. In the athletic world, my list of accolades include gold medals in powerlifting and weighlifting, a black belt in Taekwondo and purple belt in Brazilian Juijitsu, and a teammate on a 2012 CrossFit Regionals team for the Mid-Atlantic region. Additionally, I've competed in the 2017 Nationals Weightlifting Championships (Atlanta, GA) and the 2018 World Weightlifting Championships (Barcelona, Spain), as well as earned numerous National and World titles in Kettlebell Sport.
At the age of 40, I still compete at a high level in CrossFit, kettlebell sport, and weightlifting competitions. Having served 10 years in the sports medicine industry, I now own and manage Top Tier CrossFit in an attempt to teach others how to achieve their sport and fitness goals through safe and effective training methods over a lifetime. Because of my background in rehabilitation, I was able to personally recover from a serious spinal injury and a torn bicep, and vow to lead by example, showing others how to avoid serious injury through incorporating intelligent, periodized training programs, combined with state of the art coaching methods and equipment.
For the last 15 years of my career, I was blessed to be mentored by 1996 Olympics Sports Doc, Dr. Steven Horwitz. Through his guidance and resources, I became a unique professional in the fitness world. Most fitness professionals either focus only on sports performance, or only on injury prevention/ rehab. Most lack the ability to bridge the gap between the world of injuries and elite performance. I am lucky enough to be one of those select few professionals. The philosophy and methods I use with my athletes and clients reflect this highly unique set of skills. As such, the culture of Top Tier Fitness Columbia showcases this uniqueness. Our community embraces our motto of, "form above all else," and celebrates each other's achievements in precision and technique through positive reinforcement and praise.
CERTIFICATIONS:
Formal Education:
BS Kinesiology from University of Maryland, 2002
Certification & Courses:
Certified Strength and Conditioning Coach (CSCS)
USA Weighlifting Club Coach
HKC Kettlebell Coach
Functional Movement Screen (FMS)
CrossFit Level 1
Ido Portal Movement-X Workshop
Athletic Notoriety:
CrossFit Regionals Athlete 2012
USAPL Powerlifting State Champion 2013 (90kg)
IKLF World Kettlebell Champion 2016 (85kg)
USAW National Championship Weightlifter 2017 (85kg)
USAW World Championship 2018 Barcelona (85kg)
Business Notoriety:
Head Strength and Conditioning Coach for Velocity Sports Performance (2004-2005)
Head Strength and Conditioning Coach and Chiropractic Assistant for Capital Sports Injury Center (2005-2012)
Maryland Kettlebell Owner (2010- Present)
Terrapin Strength and Conditioning Head Coach/ Owner (2012-2015)
Top Tier Fitness Columbia Head Coach/ Owner (2015-Present)
Evolving Athletics Head Coach/ Owner (2019- Present)
Maryland State Director for the IKLF (2012 – Present)
Head Coach for the Terrapin Strength Weightlifting Team (2012-Present)